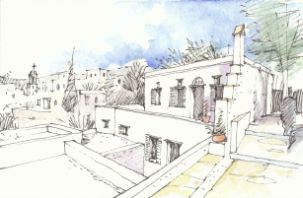 The Old Stone House Complex, Triantaros, Tinos (click to enlarge)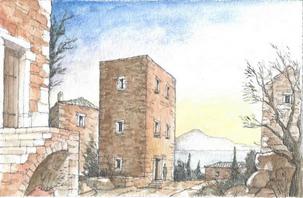 Mantineia, Messinia (click to enlarge)
We undertake under contract, planning and realization of independent housing/tourist development projects on Tinos island/Cyclades, other Aegean islands and in mainland Greece.
The range of professional services includes:
• Identification/conceptual planning of unique tourism projects
• Design and construction of modern houses and holiday complexes
• Leading expert teams in technical/commercial project developments of land, housing and recreational facilities in Greece's tourism regions
• Special expertise in planning and execution of aesthetic restorations of ruinous settlements and abandoned historical sites and their integration into high-quality, sustainable tourism concepts
• Comprehensive business and administrative project handling: town planning and construction laws, public authorities processes, financing /fund application, land acquisition, overall project implementation and project marketing and controlling
Project Realization / Team
In order to realize a project, the project team coordinates and covers the entire requirements of all project phases: locating of suitable properties, price negotiations, coordination and liaison with local banks, brokers, public and municipal authorities, all legal and notarial procedures, including property title inspection, final completion of the acquisition process, monitoring and continuous control of all investment and business objectives.
In technical terms, IMTa™ is responsible for forming and managing project teams consisting of highly trained, experienced architects and engineers, professionals employing highest standards in innovative, practical, aesthetic design. Technical implementation is always carried out with special sensitivity to the local tradition. The best, handpicked local craftsmen complement the sustainable technical work. IMTa's core team members combine decades of experience in a broad spectrum of successfully delivered construction and restoration projects in both the private and public sectors.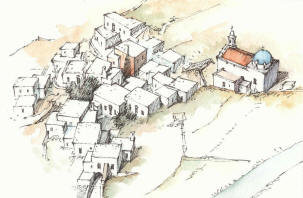 Monastiria, Tinos (click to enlarge)
Highlights:
◊ Tourism innovation: Project realization on Tinos/Cyclades as a prototype for a new, innovative tourism concept for Greece
◊ Cultural heritage: Organization/coordination of the restoration of the millennia-old "Holy Monastery of the Assumption", Tinos/Cyclades, in cooperation with local and EU authorities
◊ Specialization: Restoration of historic structures and their subsequent commercial integration
◊ Expert network: Business, technical and legal expertise with excellent local know-how in project teams – turn-key project solutions
Links
◊ American Hellenic Chamber of Commerce
◊ British Hellenic Chamber of Commerce
IMTa™ has conceptualized a model program for the development of sustainable, economically viable, integrated housing projects on Tinos. Projects can be classified into four different categories:
1. Development of totally ruinous settlements/villages or independent adjacent sections of land located within villages' town-planning zones (demarcated zones of housing development)
2. Development of totally ruinous settlements/villages and the land surrounding them, classified as non-demarcated zones of housing development
3. Development of new holiday complexes in selected open areas out of the demarcated housing development zones
4. Development of single (restoration) projects for immediate implementation (land, old houses & mansions), on selected island locations/settlements
The objective of the overall project concept is to commercially develop and promote abandoned and ruinous settlements by establishing unique, restored, traditional housing areas and/or by creating new modern holiday complexes on unexploited land. All developments are marked by characteristic elements of art, tradition and history. Projects are intended for an exclusive international market in the high-income range. In addition, the planning incorporates the remodelling of small tourist facilities (hotels and apartments) into boutique hotels, with high standards of service operating on a permanent rather than seasonal basis, hence aiming at extending the tourist season on Tinos to the whole year.
Based on meticulous fieldwork as well as research and analysis, only a specific number of settlements that fulfilled the basic selection requirements were initially chosen. A re-assessment of these preselected areas/settlements followed, with stricter selection criteria: such as topology, geography, climate, history, tradition, folklore, art, accessibility, construction parameters, marketability, view, distance from the beach and other points of interest. The outcome of that second analysis stage, in combination with further field visits and follow-up analyses, resulted in a shortlist of sites that formed the core for a detailed business concept presenting a new land and tourism development plan for Greece. This concept can be applied as a prototype for the tourist development of the wider Aegean region and specifically, small and medium-sized islands with a rich historical and cultural background. It is also applicable to other regions of Greece that combine natural beauty with history, culture and tradition.
Financing and Subsidization
The described investment framework can be subsidized up to a certain percentage from either a single or a combination of several funding programs of the European Union.