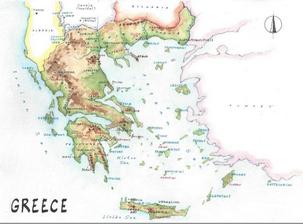 Map of Greece (click to enlarge)
Highlights:
◊ Specialization: Restoration of historic structures and their subsequent commercial integration
◊ Expert network: Business, technical and legal expertise employing project teams with excellent local know-how
Links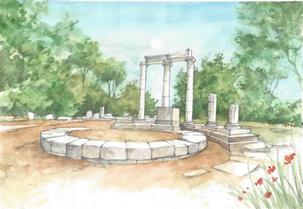 Olympia-Filippio (click to enlarge)
Unique Locations and Properties
Greece is a land of multiple locations characterized by indescribable beauty as well as incredibly rich culture, tradition and history. On the island of Tinos and in numerous parts of the Greek peninsula, we offer you opportunities to discover your own piece of this exceptionally beautiful region of the world.
For further information on such unique properties kindly contact us.
We undertake under contract, planning and realization of independent housing/tourist development projects on Tinos island/Cyclades, other Aegean islands and in mainland Greece.
The range of professional services includes:
• Promotion of unique properties and housing/tourism related projects for sale and/or development
• Restoration of historic stone mansions
• Design and construction of modern houses and holiday complexes
• Utilization of bio-climatic principles and eco-friendly architecture to construct energy-saving houses
• Comprehensive business and administrative project handling: town planning and construction laws, public authorities processes, financing /fund application, land acquisition, overall project implementation and project marketing and controlling
Project Realization / Team
In order to realize a project, the project team coordinates and covers the entire requirements of all project phases: locating of suitable properties, price negotiations, coordination and liaison with local banks, brokers, public and municipal authorities, all legal and notarial procedures, including property title inspection, final completion of the acquisition process, monitoring and continuous control of all investment and business objectives.
In technical terms, IMTa™ is responsible for forming and managing project teams consisting of highly trained, experienced architects and engineers, professionals employing highest standards in innovative, practical, aesthetic design. Technical implementation is always carried out with special sensitivity to the local tradition. The best, handpicked local craftsmen complement the sustainable technical work. IMTa's core team members combine decades of experience in a broad spectrum of successfully delivered construction and restoration projects in both the private and public sectors.